Top general says 'timing not right' for Gatdet's death sentence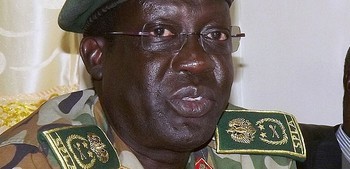 File photo: General James Hoth Mai
A top South Sudanese army general said Thursday the "timing was not right" for rebel leader's former spokesman James Gatdet Dak to be sentenced to death in Juba while warring parties seek peace in the country.
Gatdet, the former official spokesman of the exiled rebel leader Riek Machar was sentenced to death by hanging for treason in Juba recently, a year after he was deported from Kenya.
William John Endley, a South African national who served as an advisor to Machar, has also been sentenced to death for inciting war and conspiracy against Kiir's administration.
General James Hoth Mai, who heads the national dialogue's security committee, told Radio Tamazuj that the government was supposed to pardon James Gatdet to demonstrate the spirit of peace and dialogue between the people of South Sudan.
"We are now in peace and people are talking. Gatdet was supposed to be released. I can say that the timing was not right for Gatdet to be sentenced to death because we need peace now," he said.
The country's former army chief further said peace is very expensive, while calling on the relevant authorities to prioritize peace and stability in the world's youngest nation. "We previously ask about the release of James Gatdet but we were told that Gatdet's case is completely different," he said.
Hoth pointed out many political detainees were released by South Sudan's government, explaining that his committee was not mandated to order the release of political detainees. "Our mandate is to collect data for the national dialogue to proceed. We have very limited powers from the government and if they refuse, we cannot force them," he said.
"With respect to the ongoing revitalization, there are other bodies that should ask about the release of the detainees and IGAD is aware of this," he said.