Top civil servant asked to oversee govt until ministers chosen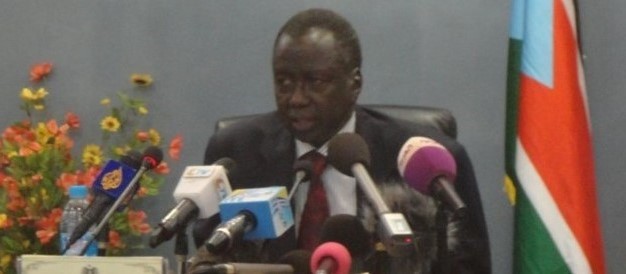 Photo: Secretary-General of the Government Abdoun Agau addressing a press conference in Juba on Friday, 26 July 2013 (Radio Tamazuj)
South Sudan's President Salva Kiir has directed the highest ranking civil service official to oversee the entire government a day after the previous government was dissolved.
Secretary-General of the Government Abdoun Agau was the man that President Salva Kiir chose to oversee the entire government pending the appointment of national ministers and deputy ministers of the transitional government of national unity.
All of the undersecretaries of the various national ministries are now to report to him.
"I President Salva Kiir Mayardit, president of the Republic of South Sudan, do hereby issue this republican order directing the secretary general of the government and undersecretaries of all the national ministries to continue running the affairs of the government pending the appointment of ministers and deputy ministers," said a statement read on state television.
The order comes into effect from February 22.
President Kiir dissolved the entire government and made his first cabinet appointment on Friday evening, picking Mayiik Ayii Deng, for the post of presidential affairs minister. He also appointed Tut Gatluak Manime, the former presidential advisor on security affairs, as the national security advisor.
All of the other ministries remain vacant.
Opposition leader Riek Machar was sworn in on Saturday in the capital, Juba, as the first vice president in a bloated government to accommodate various political parties.
James Wani Igga, Taban Deng Gai, and Rebecca Nyandeng de Mabior were also named vice-presidents as part of the unity government.
The president and opposition leaders who are part of the coalition government are expected to make wider consultations before the formation of the new cabinet.
Government posts, as per peace agreement, are shared between President Kiir, opposition leader Riek Machar and other opposition parties.
The rival parties hope the next three years of the transitional period will pave the way for reforms to rebuild the world's youngest nation.