Tonj governor vows to fight against corruption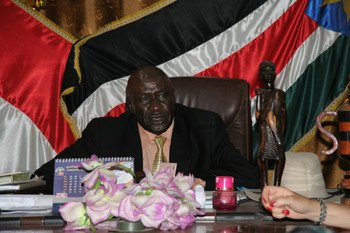 The newly appointed governor of Tonj State has voiced determination to fight against corruption in the area.
Speaking during a swearing-in ceremony for the new finance minister on Monday, Governor Anthony Bol Madut called on the new official to remove ghost names from payrolls immediately.
He called for team work to put in place structures that will respond to the challenge of corruption. "For me whether I stay one day and then removed, that one day is enough for me to solve the issue of corruption," he said.
"As government of Tonj we are doing nothing. What does it mean if we are doing nothing? It means we love ourselves and we don't love those who died for the sack of this country," he added.
The top state official thanked the outgoing finance minister James Gabriel Khamis for the services he had rendered to the people of Tonj.
Meanwhile, the new minister finance Elia Emilio Karsi expressed his gratitude to the governor for appointing him to serve the people of Tonj state.