Tonj East: 9 killed in communal clashes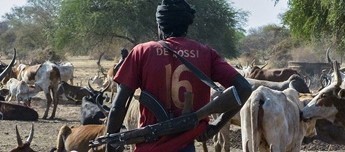 A man carrying a gun walks past cattle at Kirgui village in Udier. (Simon Maina, AFP)
Inter-communal fighting between three sections in Tonj East County of South Sudan's Warrap State has claimed 9 lives and left 30 people injured.
The Executive Chief of Akok, Deng Majur, told Radio Tamazuj on Wednesday that the Luacjang section was fighting against Akok and Thiik. He said the fighting was sparked by the raiding of Thiik cattle at Abyei cattle camp on Tuesday evening by youth from the Luacjang community.
Chief Deng Majur said, "Luacjang raided Thiik community cattle yesterday (Tuesday) at Abyei cattle camp. The number of cattle taken was 5 kraals and this morning (Wednesday) they came back and staged an attack, now it has been repulsed, they did not take cattle, but they have taken groundnuts and everything that is kept in the house."
"They have also burned houses, also people have been killed. In Akok section 2 people have been killed and 2 people have been killed from Thiik section and the wounded people from Akok and Thiik are 20. I do not know the total number of people killed from Luacjang but 4 people were found dead in the field from Luacjang. There has been no intervention from the government," the chief added.
Warrap State Governor, Bona Panek Biar, confirmed the clashes but said he had no details about the cause of fighting and the number of causalities.
"What happened is a fight between two sections of Thiik and Luacjang. This is what happened and up to this point we do not know the cause of the fight, but we will only find the cause through investigations," Panek Biar said.
The governor called on the warring communities to refrain from fighting as this will prevent delivery of services and impede development in the area. "What I can tell the civilians who are fighting is that fighting will not give you anything. This fighting will not allow medicines to reach you, it will not allow roads to reach you, and it will not allow other things that can benefit you as citizens. So I am appealing to them to stop fighting and focus on things that will bring development," he said.
The Executive Director of Luacjang center, Makuei Mabior, also confirmed the attack. He said 5 people were killed and 11 wounded from Luacjang community. Makuei Mabior said the fighting was caused by the brother of a person who was killed earlier this month in Akok area.
Makuei Mabior said, "On the side of Luacjang 5 people were killed and 11 wounded. The cause of the attack was the brother of Matoch Dongrin who was killed on 2nd Oct this year in Ngapagok."
"According to the brother of Matoch, his brother, Matoch Dongrin, went to Akok and stole cattle and upon reaching Thiik, the stolen cattle were taken by the Thiik section from him, so when he came across cattle of Thiik at the border of Thiik and Luacjang on his way to Luacjang he also raided the cattle of Thiik. These cattle are the ones that brought the problem," Makuei Mabior added.
Matoch Dongrin was shot and killed by unknown armed attackers in the defunct Ngapagok County last week.
He was travelling with his cattle from Palal area in Luack Koth via Akok Deng Achuil area to his home area in Luacjang when he was killed.
His cattle were reportedly recovered from attackers and apparently, they were not handed over to the relatives because investigations were ongoing according to the Warrap State governor, Bona Panek Biar.