Three rebel groups in Western Equatoria to join govt: official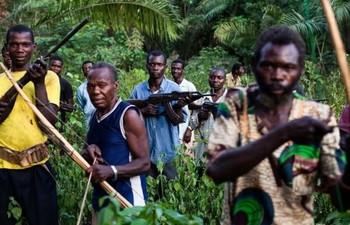 Photo: 'Arrow Boys' in Western Equatoria in 2012, by Pulitzer Center/Trevor Snapp
South Sudan's Minister of Cabinet Affairs, Martin Elia Lomuro, said the government has been negotiating with three armed anti-government groups in Western Equatoria region to lay down their arms and join the government's peace efforts.
Addressing the Joint Monitoring and Evaluation Commission meeting on Monday, Minister Lomuro said the three groups are ready to join the national dialogue initiative.
He called on the Intergovernmental Governmental Authority on Development (IGAD) and Troika countries to support the initiative so that these groups are not misled by other rebel groups.