JUBA (UPDATE 18:35) -
23 Dec 2013
Three oilfields in Unity State stop production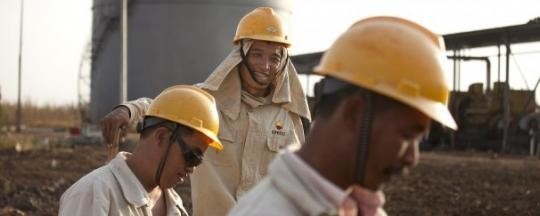 Three oil fields in Unity State in South Sudan have stopped producing oil since Sunday morning. The three fields of Manga, Toma South and Unity are out of production.
This has been confirmed to Radio Dabanga by the oil ministry in Khartoum and a local source who corroborated the closure of the wells. The South Sudanese minister of Mining, Stephen Dhieu Dau, confirmed the oilproduction has been affected by the clashes in Unuity, but he said the production in the two oilfields in Upper Nile has not stopped. President Salva Kiir this morning in a speech before the South Sudanese parliament told that he lost control over Unity State.
A high-ranking official of the Ministry of Petroleum in Khartoum has confirmed the shut down, pointing out also that a number Dinka workers from the oilfields fled from Unity State to Heglig oil town in Sudan. Only two years ago, SPLA occupied Heglig oilfield where these workers now seek refuge.
This report suggests that some parts of the oil fields are now in the hands of defected troops after Salva Kiir accused his rival former vice-president Riek Machar of a coup attempt.
Unity Oil field is the largest oil field with 126 wells operated by the Greater Pioneer Operating Company. The oil fields in Unity State produce at full capacity 115,000-120,000 barrels per day, approximately half of the total export of 240,000 BPD oil from South Sudan to Sudan.
The oil concession is held by Greater Nile Petroleum Company, a consortium of national oil companies from China, Malaysia, India and South Sudan.
It is the second time the oilfields are closed in two years time. The oilfields were shut down earlier after a conflict in 2011 between Sudan and South Sudan. In April 2013 the production resumed. In some areas, pipelines had been fractured by pressure resulting from the sudden unexpected shutdown in February 2011. Oil leakages had mostly affected Manga and Toma South.
Oil fields elsewhere in the country, in Upper Nile State, have not yet been confirmed to be closed, meaning that some of the country's production may be still on line, but there are now developing reports of clashes in that state as well.
South Sudan's budget is 95 percent dependent on oil revenue.
To contact Radio Tamazuj with comments, news tips or information, write to radiotamazuj@gmail.com.