Three killed in anti-Bashir protests in Omdurman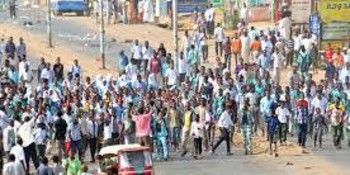 At least three people were killed and several others injured during Wednesday's anti-government demonstrations, Sudan's state news agency said.
State news agency SUNA said on Thursday that three protesters were killed during protests in the capital's twin city of Omdurman on Wednesday.
SUNA quoted police spokesman Hashim Ali Abdurrahman as saying that the incidents were being investigated.
Bashir, who came to power in a military coup backed by Islamists in 1989, vowed to stay in power despite protests against his rule.
The embattled long-time president called on his opponents to prepare themselves to take part in the next elections.
Legislators loyal to Bashir are rallying support in the national legislative assembly for constitutional amendments to allow Bashir, 74, to run for elections in 2020.
Deadly protests broke out on 19 December after a government decision to raise the price of bread.
In a joint statement Tuesday, the United States, Norway, Britain and Canada expressed their concern over the current situation in Sudan.