Three chiefs arrested over incitement in Tonj state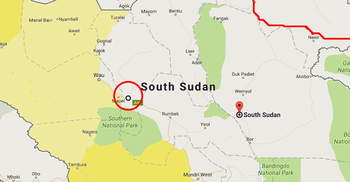 Photo: South Sudan Tonj map (Retrieved from Google map)
Authorities of Tonj State have arrested three chiefs accused of inciting communities to fight over a piece of land often used for grazing of cattle during the dry season.
Tonj Governor Akech Tong Aleu told Radio Tamazuj on Wednesday that the arrested chiefs include Malok Akot Wut from Muok community, Cikom Ayii Cikom from Yar community and Kuel Bak Nyang from Thony community.
He said the three chiefs are partisans because they sided with their respective communities on the matter during three separate meetings that he held with them concerning the disagreement.
"We have arrested three chiefs, Malok Akot Wut has been arrested, Cikom Ayii Cikom has been arrested and Kuel Bak Nyang has been arrested. We arrested them because they are not agreeing and they want to incite the communities to fight," he said.
The state official said one of the intellectuals called Akoot Ajang from Yar community incited people to fight at the meeting has also been arrested and that he will be taken to court together with the three chiefs.