Third Governors' Forum kicks off in Juba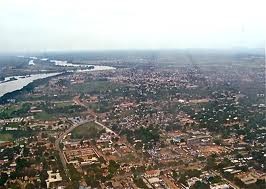 South Sudan's third Governors' Forum started today in Juba, the capital of South Sudan, under the theme "Transparent and Accountable Service Delivery for Local Development" under the auspices of President Salva Kiir Mayardit. The Forum brings together all the governors across ten states of South Sudan.
Speaking to Radio Tamazuj yesterday, the Information Minister, Michael Makuei, noted that the Forum, to be held in Freedom Hall in Juba, aims at reviewing the government's performance and how to improve the government's performance in the future.
The forum will take place from 26 to 29 November. According to sources the Forum will be attended by President Salva Kiir, his deputy James Wani Igga, United Nations representatives, as well as some heads of diplomatic missions in South Sudan.
File photo: Juba (The Niles)