Tetanus-Diphtheria vaccination campaign launched in Yambio County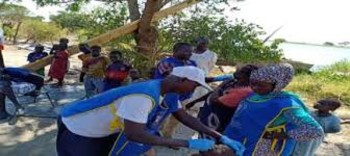 Health worker providing integrated health and nutrition services. Photo: MAGNA
A seven-day immunization campaign against Diptheria and Tetanus in child-bearing women is on-going in Yambio County of Gbudue State.
The campaign which started on Monday targets more than 45,000 women of between 15-49 years of age. It is expected to end on the 16th of June 2019.
Speaking to Radio Tamazuj on Tuesday, the Expanded Programme on Immunization (EPI) supervisor of the county health department in Yambio, Juma Richard Gabriel said the immunization will reduce maternal and infant mortality rates.
"We want to protect our women from getting this tetanus that kills a lot of women and infants. So we talk of maternal tetanus that kills women who are pregnant up to 42 days after delivery," he added.
He said there are teams of vaccinators that will provide the services at the public health facilities and schools.
"We have a strategy to visit schools because we know that in the schools we have so many girls at that age. We have two teams that are mobile to move to all the schools; both primary and secondary schools. We have already visited some schools but we will continue until we visit all schools," he noted.
Richard said the 2 in 1 vaccine which will protect a pregnant woman and her infant from tetanus and diphtheria will be administered in 5 doses.
He urged all who receive the vaccination to keep their vaccination cards for use in subsequent vaccination campaigns.
Richard called on all girls and women of ages 15 to 49 to ensure they get vaccinated to protect themselves against the deadly diseases.
The campaign is supported by the World Health Organisation and the United Nations children agency, UNICEF.