Telar arrives in Khartoum, dispels rumours about joining rebels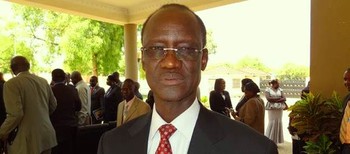 File photo: Telar Riing Deng
South Sudan's former ambassador to Russia has travelled to the Sudanese capital Khartoum, while fighting back claims that he will carry out negative activities and join the opposition.
Telar Riing Deng, who resigned from his position in January in protest against lack of trust from President Salva Kiir, told Radio Tamazuj on Saturday he was in Khartoum to visit his father-in-law in hospital bed.
"Yes, I am in Khartoum. I came to visit my father-in-law, General Andrew Makur Thou who has been admitted to Royal Care International Hospital, Khartoum. He is seriously sick," he said.
The former presidential adviser said he was not alone in the Sudanese capital visiting his father-in-law, pointing out that some members of the family including the chairperson of the country's elections commission Abednego Akol Kachuol are currently in Khartoum.
He commended Presidential Salva Kiir for making a financial contribution to the family.
The former senior diplomat was reacting to social media reports alleging he was in the Sudanese capital in preparation to join the opposition fighting against the Kiir administration.
Ambassador Telar was removed by Kiir from service in the ministry of foreign affairs after resigning from the government in protest.
The South Sudanese politician had refuted reports associating him with the country's former army chief General Paul Malong Awan who was declared a rebel by Kiir's government.