Tambura unrest: More than 4,000 people displaced by fresh attacks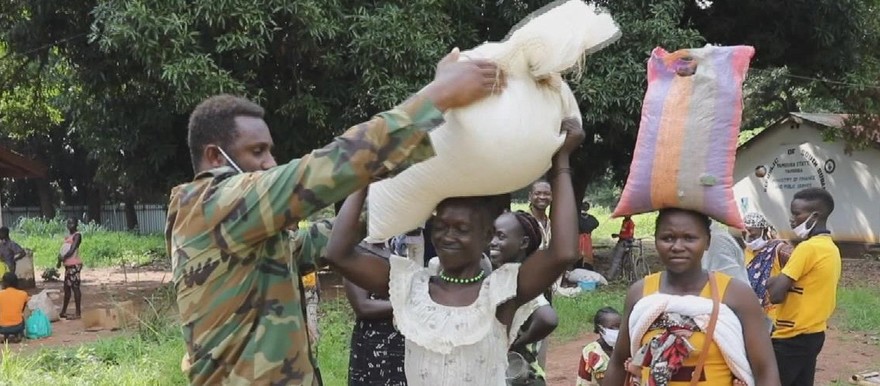 Local authorities in Tambura County headquarters in Western Equatoria State have said that they have received over 4000 people who have been displaced by fighting from neighbouring villages since Monday.
The Tambura County commissioner, Mathew Mabenge, confirmed to Radio Tamazuj on Wednesday that he has received thousands of Internally Displaced People due to sustained fighting which he blamed on SPLA-IO factions in the county.
"They attacked the house of the Paramount Chief and those who launched the attack belong to the forces of SPLM/A-IO. So, this means there is a declaration of war by SPLM/A-IO," Mabenge explained. "We are going to hold a meeting with elders from Balanda and elders and youth from Zande so that we can sit together and find an amicable solution to this situation."
The displaced people from the villages of Matarungu, Nambia, Akpa, Bangaru, Maku, Dingimo, and Basanabaru are now being hosted at St. Mary's Parish Catholic church, the ministry's complex and former GTZ in the Maiku area.
According to a catholic priest, Rev. Father Bie Emmanuel Bafu of St Mary parish, over four thousand people have been displaced in the last two weeks due to intercommunal violence that erupted in different villages of Tambura County and they are in dire need of humanitarian assistance.
"Currently, with me in Tambura, the estimated number that we registered in St. Mary's was 1,038. They are living in the parish, but recently more IDPs have come and they are more than the previous number who had registered. To me, the number is doubling to more than 4,000 people displaced in Tambura," Rev Bafu said.
He appealed to the local government to provide security for the IDPs inside the town.
"The gunshots within Tambura are beyond control, it is beyond our capacity, we are unable to contain it as civilians and as church personnel. We only pray it can be contained by the security and the government so that people remain in peace," he added.
Emmanuella William, a mother of a one-week-old child who was also displaced, told Radio Tamazuj upon her arrival on Tuesday that she had escaped from her village with nothing because they were attacked by unknown gunmen. She called for urgent humanitarian intervention since they lack food, medicines, and shelters.
"People came to our village to attack us and we ran here to the church, but now we don't have shelter, food, and other things. As you can see, we are suffering so much," Emmanuella said.
Meanwhile, Edmund Yakani, the Executive Director of Community Empowerment for Progress Organization (CEPO), who is momentarily in Tombura attending a three-day community dialogue aimed at restoring peace, blamed the political elite from Western Equatoria State for orchestrating the clashes for personal gain.
"We started a three-day dialogue today to resolve the problem between the Zande and Balanda communities. We rushed here because the problem was escalating and taking on new forms like burning of houses with people in them and a chief was attacked the other day," Yakani explained. "The forces of SPLA-IO and those loyal to General James Nando Mark are the ones involved."
The renowned activist said that until the political elites change their attitudes, there will be no peace among the communities.
"I blame the Western Equatoria State political elites for pushing the communities to clash with each other for their gains. Therefore, my opinion is that for us to have peace in Western Equatoria, in particular Tambura, the political elites have to change their attitudes to peace," Yakani said.
In March 2020, Gen. James Nando Mark, the SPLA-IO Division Commander in Western Equatoria defected to the SSPDF.
Col. Lam Paul Gabriel, the spokesperson for SPLA-IO, could not immediately be reached for comment.