Tambura displaced receive aid in Wau, W. Bahr el Ghazal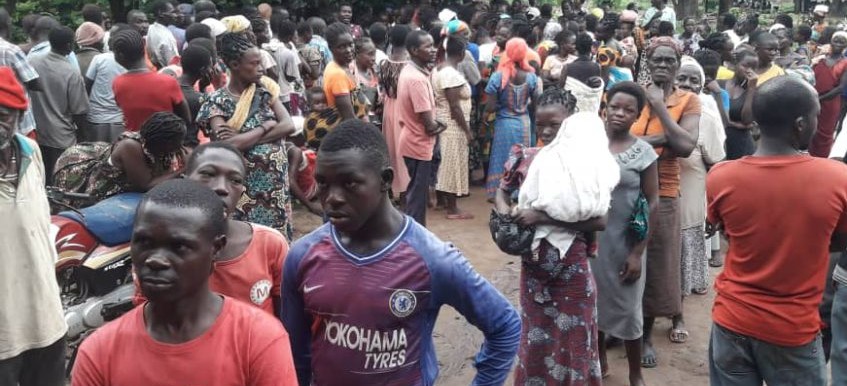 Thousands of Tambura internal displaced persons queuing for verification in Ezo County Western Equatoria State on July 26, 2021 [Photo: Mustafa Bona]
Hundreds of displaced families from Tambura County of Western Equatoria State currently in Wau of Western Bahr el Ghazal State received humanitarian assistance from the Community Aid Relief for Development Organization (CARDO).
Last month, over 2,000 displaced persons mostly women and children fled their homes in Ezo, Yubu, Akpa, and Kpatanayo after their homes were torched during intercommunal clashes there.
Speaking to Radio Tamazuj during the distribution of the items, Mathew Anthony, the Protection Project Coordinator for CARDO, said the support has been provided with support from the UN refugee agency, UNHCR.
"We have given them blankets, kitchen sets, sleeping mats, mosquito nets, plastic sheets, soap, sanitary pads, underwear for women, we have also given them some of the things that can keep them at least with the hope that although they lost some of their things back home, they have regained some of these things here and the number we have reached to is 400 households," he said.
Anthony noted that the IDPs are in dire need of food, medicine, and shelter.
"We people working in protection, we are responding to the emergency. The people displaced from Tambura in Western Equatoria state they are here in Wau, they are actually in dire need of humanitarian assistance," he added.
Some of the IDPs who received the assistance acknowledged the support of the humanitarian partners and called on the leadership in Western Equatoria to resolve the problem as soon as possible to allow them to go back.
Martin Mbugo, one of the IDP who received the items welcomed the assistant but said food for them is the most important that should be first provided by the NGOs on the ground.
"I am not feeling okay because we cannot eat these things. We just go and use them for sleeping. There is no food, we need more support from the government and NGOs to help us," Martim Mbugo, one of the IDPs said.
"We came with a lot of children and there is no food, but we give thanks to the NGOs that brought us here, they gave us plastic sheets and water containers," said Sebillia Iban, a woman who fled the area with her kids expressed her gratitude.
"I am the one in charge of the people coming from Tambura. Children are suffering from malaria, and we do not know where to get medicine. I call upon our leadership in Western Equatoria to stop the conflict so that we can go back with children who ran here," said Michael Gambe.
Gambe called on the national and state governments to resolve the conflict in Western Equatoria State so that they can go back to their homes.