Makuei: Talks on two armies 'out of question'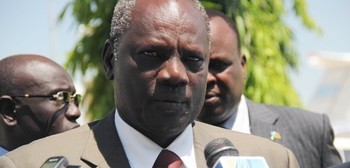 File photo: Michael Makuei Lueth
The South Sudanese government delegation at the ongoing peace talks in Addis Ababa reaffirmed vehement opposition to any negotiation on governance and two armies at the revitalization forum.
The security arrangements of the 2015 peace agreement provide for the establishment of separate sites for cantonment of the two armies to enable personnel, weapons and equipment accountability, screening, disarmament and demobilization.
"Our chief negotiator made it very clear that there are two things that are untouchable. Issues of governance, we are not here to tempter with provisions that are not affected by the resolution of the IGAD council of ministers," Michael Makuei, Minister of Information told the press in Addis Ababa on Monday.
"Number two, this idea of two armies in one country is out of question. We will not talk about it even," he added.
The government spokesman pointed out that their chief negotiator Nhial Deng Nhial said several opposition groups believe that the government of South Sudan is collapsing, pointing out that those groups are misinformed.
The top official said the latest U.S. arms embargo against the South Sudanese government could derail the ongoing peace process.
Makuei pointed out that their chief negotiator said at the opening season of the peace talks on Monday that repeated threats with sanctions will not bring about peace in South Sudan.
Talks between South Sudan's warring parties entered its second day today in Addis Ababa. The parties were scheduled to discuss chapter one and chapter two of the 2015 peace deal related to the transitional government and permanent ceasefire.