Talks on states hit deadlock, mediator to consult AU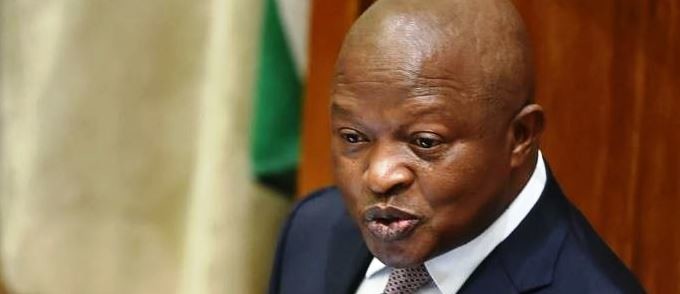 South African Deputy President David Mabuza./ PHOTO: David Mabuza Twitter
Talks aimed at determining the number and boundaries of states have hit a deadlock after the government rejected calls to reduce the number of states.
The rival parties have been negotiating in the capital Juba in an attempt to resolve the contentious issue of the number of states as part of the peace deal.
South Africa's Deputy President David Mabuza took over mediation efforts in December last year, in the latest bid to push stalled talks between President Salva Kiir and opposition groups.
Mabuza, after facing difficulties to have the parties agree on the number of states, has proposed to refer the matter for arbitration.
Speaking to reporters in Juba on Thursday, Mabuza said talks hit another deadlock, pointing out that the parties have rejected suggestions to have the matter go for arbitration for 90 days, which would be after the formation of the transitional government.
"We must consult IGAD, we must consult the AU. Fortunately, they have got a summit this weekend, so we are going to table the proposal and beyond that we come back and give them the feedback," Mabuza said.
Michael Makuei, South Sudan's Minister of Information, maintained that the number of states and boundaries must be addressed after the formation of the transitional cabinet.
"The opposition in a way or the other they are demanding further extension but we are saying no more extension. The people of South Sudan are fed up of extensions, so we need to establish the transitional government and then continue with the consultation process," he said.
"The transitional unity government will be declared on February 21 and will take oath on 22 February," he stressed.
For his part, the deputy chairman of the opposition SPLM-IO, Henry Odwar said negotiations on the number of states have reached a deadlock.
Odwar blamed the South Sudanese government for the deadlock in talks but asserted that the opposition remained "committed to the peace process."
"Without the outstanding issues being resolved, the SPLM-IO will not come into government because we walked through this path in 2016," he stressed.
South Sudan had 10 states when it obtained independence from Sudan in 2011. But in 2015 President Salva Kiir unilaterally increased the number to 28 and then later 32. The opposition argues that the constitution and the 2015 peace deal are explicit that South Sudan comprises only 10 states.
The opposition is insisting on a return to the original 10 states, or 23 states based on colonial boundaries.
The rival parties have twice failed to form the unity government, first in May 2019 and then in November the same year, when they agreed to give themselves100 days to resolve disputed issues and form a unity government by 22 February 2020.
Under the terms of the 2018 peace deal, the parties are to create a unified army to reduce the chances of fighting again and agree on the number of states and their boundaries.