Talks between gov't and SSOMA-Malong to resume early July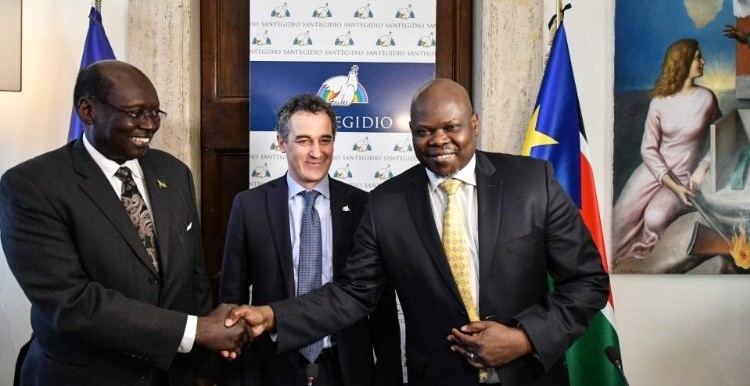 South Sudanese politicians shake hands at St- Egidio headquarters in Rome [Photo: AFP]
Peace talks between the government of South Sudan and the South Sudan Opposition Movements Alliance (SSOMA) faction led by General Paul Malong and Pagan Amum will resume on July 1st in Rome, Italy.
Speaking to Radio Tamazuj today, the secretary-general of the Community of Sant'Egidio Paolo Impagliazzo, which is mediating the talks, said the upcoming talks will focus on the real causes of conflict between the parties involved.
"We are going to have another round of talks with SSOMA parties, SSUF (of Gen. Malong) and Real SPLM (of Pagan Amum), and the government in Rome from the 1st to the 4th of July and we are going to discuss the root causes of the conflict," he stated.
The parties signed a Declaration of Principles Agreement in Kenya's Naivasha town in March.
Talks with SSOMA-Cirillo faction
Impagliazzo further said talks between the government and the SSOMA-Thomas Cirillo faction will not take place as had been scheduled.
The talks were expected to resume on 28th June 2021 but the SSOMA-Cirillo faction earlier in the month said it would boycott the talks if they did not get any security guarantees for their leaders in South Sudan's neighboring countries, following the murder of one of their generals Abraham Wana in Kampala, Uganda.
"While with SSOMA-Cirillo we are still working on assurances and guarantees by the neighboring countries to let the representatives of SSOMA Cirillo travel safely to Italy to attend the next round of talks," Impagliazzo said. "The situation is improving so we believe that by the end of July it will be possible to reconvene a meeting between SSOMA-Cirillo and the government."
He added, "The political will is there from both parties to have a face-to-face meeting. Of course, the dates are not yet confirmed but this is the situation and if SSOMA will be able to get some reassurance from the neighboring countries, I think that we can at least reconvene as soon as possible."
Impagliazzo hopes in the next round of talks between the government and the SSOMA-Cirillo faction, the parties will discuss and agree on the declaration of principles and move on to a political discussion.