Taban vows to continue working with US despite sanctions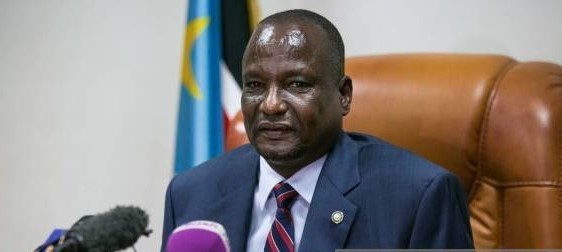 File photo: South Sudan's First Vice President Taban Deng Gai
The First Vice President of South Sudan, Taban Deng Gai on Thursday regretted the US decision to impose sanctions on him and vowed to continue working with the United States.
The United States Treasury Department on Wednesday imposed sanctions on Taban Deng Gai, in Washington's latest move to pressure South Sudan's leaders to form a transitional government.
The United States said Taban Deng was involvement in serious human rights abuse, including the disappearance and deaths of civilians, and of extending conflict in South Sudan.
Treasury further said Deng arranged and directed the disappearance and deaths of human rights lawyer Samuel Dong Luak and SPLM-IO member Aggrey Idry in order to solidify his position within President Kiir's government.
"It is regrettable that the US Department of the Treasury's Office of Foreign Assets Control sanctioned a high-profile person of the calibre of Gen. Taban Deng based on baseless and unfounded allegations," said Adison Ruai, a manager in the first vice president's office.
"Despite the sanctions wrongly imposed on him, Gen. Taban Deng Gai pledges to continue working with the United States and the international community to prove the unfounded nature of the allegations against him," Adison added.
The office manager said the country's first vice president is committed to peace and unity of the people of South Sudan. He added that Gen. Taban Deng believes in fighting impunity, promoting democracy and guaranteeing the rule of law.
Deng is the latest South Sudanese government official to be sanctioned by the Trump administration.
Last month, the United States imposed sanctions on two South Sudanese cabinet ministers, days after blacklisting five other individuals it says are responsible for the likely murder of the two human rights activists in 2017.