Taban's SPLM-IO group demands release of 10 army officers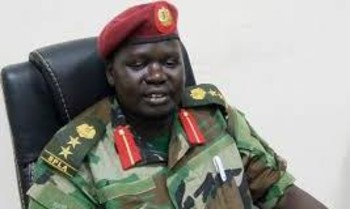 The SPLM-IO faction loyal to the country's First Vice President Taban Deng Gai has called for the release of 10 of their army officers allegedly detained since last year in Panyijiar of former Unity State by rebel forces loyal to rebel leader Riek Machar.
Speaking to Radio Tamazuj on Monday, Dickson Gatluak, Taban's military spokesman, said the 10 were detained on 11 January 2017, more than a year ago.
"We are calling on the opposition to fully implement the agreement on the cessation of hostilities and hand over our generals to the Red Cross as stipulated in the deal," he said.
Gatluak also called on the international ceasefire monitoring body, also known as CTSAMM, to investigate the allegations that one of the detained generals was killed by the rebel forces.
For his part, rebel-appointed Panyijiar County Commissioner John Tap denied the claims saying they held no general in detention.
He further said the three civilians who were in their custody have been released and handed over to their relatives.
"Taban's group are liars. We have not detained any single general only civilians who were in our custody and we have set them free," he added.