Taban's group rejects separate consultations on peace process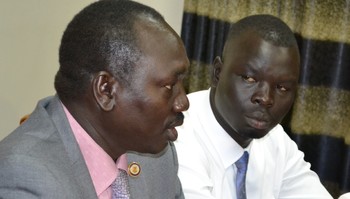 Members of the opposition faction of Sudan People's Liberation Movement-In-Opposition (SPLM-IO) led by First Vice-President, Taban Deng Gai on Friday officially rejected separate consultations on the IGAD revitalization process.
"There is no point of IGAD consulting individuals as if we are negotiating a peace agreement," Dhieu Mathok, SPLM-IO Secretary General said at a press conference in Juba on Friday.
Mathok, who is also a government minister in Juba, said the consultation process said they want to be consulted as one body under the coalition government. He added that the upcoming consultation on the revitalization process is not a serious matter that needs parties to be consulted separately.
"We are not refusing the consultations. We accept the consultations but the consultations must have to take into account that there is a government in place which is implementing the peace agreement and I believe IGAD will understand it," Mathok said.
"Revitalization means the peace agreement is alive but you need to inject more light in it. We believe that the government is there which is active, we have achieved significant progress in the implementation of the peace agreement," he added.
The group was reacting to a revitalization timetable released by the East African regional bloc IGAD. The consultations, in which Taban's faction was chosen as one of the groups to be consulted, are expected to start on from 13 to 17 October.
On Wednesday, Johnson Olony, a top general in the Sudan People's Liberation Army-In-Opposition (SPLA-IO) led by Riek Machar rejected separate consultations suggested by IGAD saying the meeting should be with his boss Riek Machar.