Taban Deng says Machar's return to Juba is 'recipe for disaster'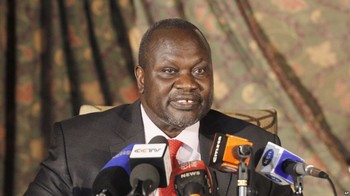 File photo: South Sudan's rebel leader Riek Machar
Rebel leader Riek Machar's return to Juba to participate in the national dialogue is a "recipe for disaster," South Sudan's Frist Vice President, Taban Deng Gai said while addressing the IGAD summit in Addis Ababa on Monday.
Gai told the East African leaders that Riek Machar will not accept to rejoin the political process without his army, claiming his former boss needs an army to back him should he lose the upcoming general election.
"Violence and dialogue as two distinct means of pursuing political objectives are mutually exclusive. They cannot be combined. And this is precisely the reason why those who think that Riek Machar should be brought back in order for the political process to be truly inclusive should think again," he said.
Gai, who is also leading a faction of the SPLM-IO, emphasized the need to reintegrate opposition troops into a single national army as soon as possible instead of allowing for the separate existence of the SPLA-IO forces throughout the transitional period.
"By the end the of transitional period, the full integration of the army will have been completed and it would be safe for South Sudan to accept the return of Riek Machar who can then come and contest peaceful democratic elections as a civil political leader," he said.
According to the first vice president, it is not feasible for Riek Machar to return to South Sudan now. He pointed out that the unity government has no objection in principle to Machar sending a delegation to deliver his views and message to the people of South Sudan in the national dialogue forum.
The IGAD summit, attended by leaders of East Africa's security and trading bloc in Addis Ababa on Monday, called for the revitalization of the 2015 South Sudan peace accord.
The regional leaders referred all warring parties in South Sudan to the signed peace agreement whose implementation was too slow following renewed fighting in July last year.