JUBA/KAMPALA -
13 Apr 2017
Taban Deng meets Uganda's president over peace implementation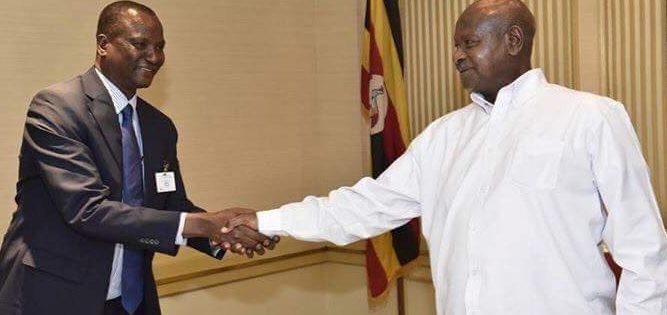 South Sudan's First Vice President Taban Deng Gai on Tuesday met with Uganda's President Yoweri Museveni at Kityerera Presidential Farm in Mayuge District.
In a statement to reporters after Gai's return from Uganda on Wednesday, Chuol Lam, spokesman of Taban Deng's office, said the two leaders discussed matters pertaining to peace implementation, national dialogue, humanitarian and security.
"The discussion also covered potential bilateral relations, and strengthening of bilateral relations. The Ugandan president H.E Yoweri Museveni also committed himself and his government to deliver electricity to Nemule and Kaya as well as grade roads in parts of Equatoria," said Chuol.
According to a separate statement the Ugandan president issued on his social media platforms, the meeting centred around shared areas of transport, electricity and peace in South Sudan.
Museveni also called on South Sudanese to denounce violence.
Photo: South Sudan First Vice President, Taban Deng shakes hand with Ugandan President Yoweri Museveni at UNGA sideline.(Twitter)