Swearing in of South Sudan lawmakers rescheduled for next week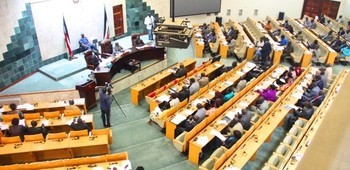 The swearing-in ceremony of members of Parliament appointed to the national legislature has been rescheduled for Monday next week. It was initially scheduled to take place on Friday.
Both the upper and lower houses were reconstituted by President Salva Kiir Mayardit when he appointed Members of Parliament early this month, but the legislators have yet to be sworn in.
Two weeks ago, the administration of the national assembly started registering members of parliament.
In a statement issued on Thursday and seen by Radio Tamazuj, the Minister of Presidential Affairs, Barnaba Marial Benjamin said the event has been adjourned in honour of Martyrs Day which falls on Friday, 30 July.
"In honour of commemoration of Martyrs Day, which falls on Friday 30 July 2021, the Ministry of Presidential Affairs hereby announces that the swearing-in of the Honorable Members of Revitalized Transitional National Legislative Assembly, which was scheduled for Friday, 30 July 2021, at Freedom Hall at 11:00 am is hereby rescheduled for Monday, 2 August 2021," the statement read in part.
Martyrs' Day in South Sudan is observed on July 30. It is a public holiday and a remembrance day that commemorates those who died during the liberation struggle of South Sudan and the death anniversary of John Garang de Mabior who is widely considered the most influential person in the history of the world's youngest nation.