Suspects arrested over killing of Sudanese man in Ruweng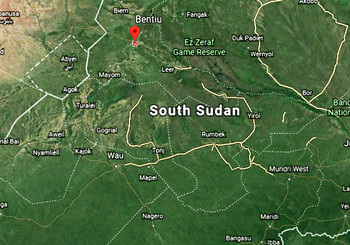 Photo: South Sudan map (Retrieved from Google maps)
Police authorities in South Sudan's Ruweng State have arrested five people suspected of killing a Sudanese refugee at Pamir Camp on Sunday, a top state official said.
The governor of Ruweng state Them Machar told Radio Tamazuj on Monday that the police have arrested five men suspected of attacking Sudanese refugees at Pamir Refugee Camp.
He pointed out that the attack resulted in the killing of one person and wounding of another.
Machar said that the perpetrators will face the law. "We have put precautionary measures to avoid similar incidents. If anyone found with a gun near the camp will be arrested," he said.
The state official Kuol called on the refugees in the area to remain calm.