Suspect arrested in connection with shop burglary in Tonj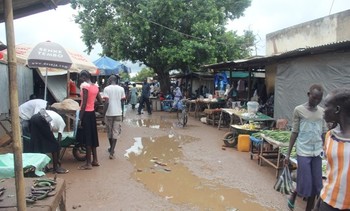 A man suspected to have broken into a shop in Tonj market and went away with an estimated 157,000 SSP has been detained pending investigations, as cases of burglaries increase in the market.
The acting governor of Tonj state, Teresa Awien Dal, told Radio Tamazuj on Sunday that the security agents have recovered some of the money from the suspected burglar.
"Security has caught the thief with about 70,000 SSP part of the money that was stolen, a radio and some other items and investigation is going on," he said.
"I am calling security organs present in the state to protect residents even at homes because there is increasing report of stealing at residential areas, the security should work day and night to protect property of citizens and traders," Awien added.
Last week, traders closed their shops for hours in protest to what they called increasing cases of shop burglaries by thieves during the night.