Survivors of sexual violence struggle to access healthcare: report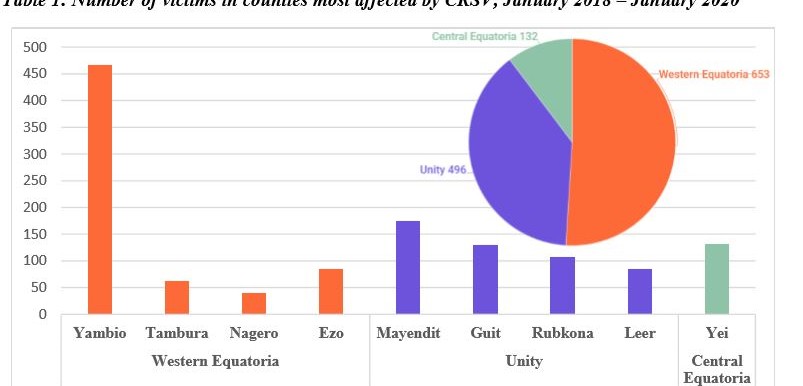 Number of victims in counties most affected by conflict-related sexual violence (CRSV), January 2018 – January 2020
Survivors of conflict-related sexual violence continue to struggle to access adequate medical and mental health care, according to a new report released on Tuesday by the United Nations Mission in South Sudan and the UN Human Rights Office.
The report, titled "Access to Health for Survivors of Conflict-Related Sexual Violence in South Sudan," takes an in-depth look at the adequacy of health care available in Unity and the Central and Western Equatorian regions, which account for 85 percent of conflict-related sexual violence cases documented between January 2018 and January 2020.
The report stated that funding for public health care in South Sudan has not been prioritized, with just 1.2 percent (USD 14 million) of the national budget allocated for this purpose. It noted that this has resulted in international organizations using donor funding to try to fill the gap.
The report found that there is, on average, only one health facility per 10,000 people and an estimated 72 percent of the population live more than 5 km away from their closest clinic.
The report documents 356 incidents of conflict-related sexual violence, including rape that took place between January 2018 and January 2020. These incidents involved at least 1423 victims, including 302 children.
The report said those responsible for the violence included government and opposition forces, as well as youth militia used by the parties to the conflict.
In its response to the findings, the Ministry of Gender, Child and Social Welfare said the report was "timely" and provided "a true picture" of the challenges faced by CRSV survivors, including access to health services.
The Ministry also highlighted actions already taken by the Republic of South Sudan to tackle sexual violence across the country.
"It is really encouraging to see the Government acknowledging the concerns raised in the report and being prepared to work together with the United Nations to combat sexual violence in South Sudan," said the Special Representative of the Secretary-General and Head of UNMISS, David Shearer.
He added, "Women in this country have suffered immensely from sexual violence. We must do everything we can to make sure survivors get the health care and support they so desperately need."