Supreme Court judge resigns, citing 'interference'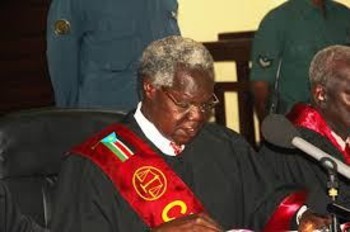 A senior South Sudanese judge has quit, accusing the executive of interfering with the judiciary," according to a resignation letter obtained by Radio Tamazuj on Tuesday.
South Sudan's judges went on a five-month strike in May to demand higher salaries, better working conditions, and the resignation of the country's chief justice Chan Reech, whom they accuse of ignoring their demands.
Kukurlopita Marino Pitia was a judge of South Sudan's Supreme Court judge.
"The independence of the judiciary, in the Republic of South Sudan, has become a mockery," Pitia wrote.
He pointed out that the fundamental core values enshrined in the country's constitution and the substantive laws are repeatedly violated and not observed, while citing poor working conditions.
"The war in South Sudan cannot be used as an excuse to interfere and silence and silence the judiciary," Pitia said.
He further said the dismissal of the judges to save the Chief Justice Chan Reech Madut has ruined the judiciary and brought it to its knees because of mismanagement.
Government officials could not immediately be reached for comment.