Suicide cases on the rise in Malakal PoC site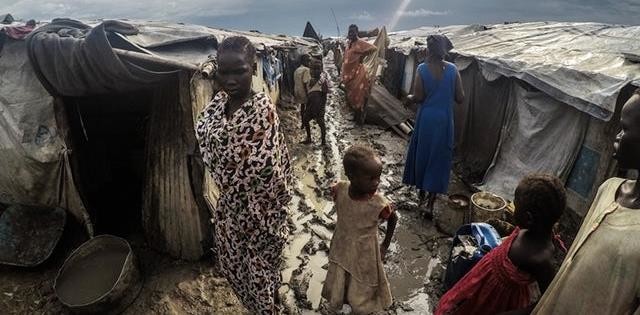 Rainy season at the Malakal PoC camp in South Sudan.Credit is Raul Fernández
A rise of suicides and suicide attempts has been recorded especially among young adults in Malakal Protection of Civilians (PoC) site and Malakal town, UNOCHA said in its latest weekly humanitarian bulletin.
"Ninety-five suicide cases were reported in the protected site between January and July 2019. Of those, 94 per cent were attempted suicide. Some 55 per cent involved women. Two thirds were people between the age of 19 and 35," OCHA said on Friday.
The UN agency further said no systematic research has been done yet, but according to focus group discussions done in the site, the high number of suicide cases was attributed to the effects of the years of conflict, violence, depression, poor health, loneliness, caused by isolation from family and friends.
Despite the high psychosocial stress, the mental health care system in the country is still weak. South Sudan has only three psychiatrists serving the entire population, and only one psychiatric inpatient facility in Juba. The situation is even worse in the most conflict-affected parts of the country, including Upper Nile.
Yet, suicide is preventable and prevention is one of the most effective ways to reduce the burden. The earlier signs of distress are identified and addressed, the better.
OCHA pointed out that humanitarian organizations have established a mental health medical facility at the protection site to tackle mental health issues.
"A mental health and psychosocial support mobile response team has scaled up suicide prevention messages. Key messages are being passed at the water points and through plays in the site," OCHA explained.
It disclosed that aid agencies are conducting referral to existing services, conducting dialogue sessions with vulnerable groups, fighting the stigma and taboo around suicide, and working with other humanitarian organizations to improve access to socio-economic opportunities for the site's young population.
In 2013, conflict forced most of the population in Malakal town and surrounding areas to flee their homes, with some seeking shelter in the UNMISS protected site in Malakal.
The site population peaked at just under 48,000 individuals in August 2015 and has since reduced to some 30,000 people, per the population head count conducted by humanitarians at the end of September 2019.