Sudanese protest in Khartoum against rising bread prices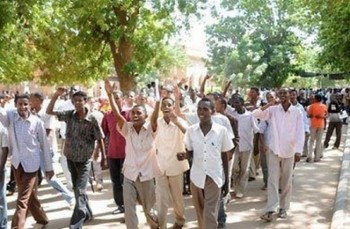 Anti-riot police fired tear gas and beat protesters with batons on Tuesday as hundreds of Sudanese demonstrated against increasing prices of bread in the capital Khartoum.
Bakeries recently raised the price of a loaf of bread from 50 cents to 1 Sudanese pound following a government decision to increase the price of flour sack from 167 pounds to 450 pounds.
Hundreds of protesters took to the streets in Khartoum on Tuesday after the opposition Communist Party of Sudan called for an anti-government rally. Police authorities detained a number of opposition figures who took part in the protests.
Meanwhile, students at the University of Khartoum and Al-Neelain University staged peaceful protests on Tuesday evening. The opposition also called for protests on Wednesday in Omdurman city.