Sudanese pound weakens further against foreign currencies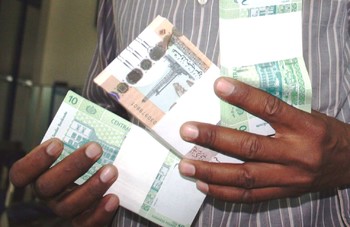 The Sudanese pound has continued to weaken drastically against foreign currencies in the Sudanese capital, Khartoum despite a crackdown on the sale of dollars last Saturday.
On Sunday, the SDG was selling at 22.5 SDG to the US dollar, 5.79 SDG to the Saudi Riyal, 29.34 SDG to the Sterling Pound and 1.25 SDG to the Egyptian Pound.
Economists say this is the highest recorded drop in the value of the Sudanese Pounds against foreign currencies.
Last Saturday, security agents arrested some black market dealers in foreign exchange illegally. Some of the traders who spoke to Radio Tamazuj said such crackdowns are carried out unexpectedly. They said those arrested are fined 5,000 SDG before they are released.