Sudan withdraws from Abyei as Ethiopian peacekeepers are deployed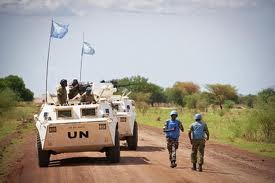 The Sudanese army withdrew from Abyei today and redeployed north of the disputed region, in time for to resume African Union mediated negotiations with South Sudan in Addis Ababa.
Ethiopian peacekeeping troops were also deployed to Abyei on Monday.
The head of the Ethiopian mission said his forces will worki hard to maintain stability in the region.
He said the process of switching forces in Abyei is routine so that each force deploys for six months.
He called on Sudan and South Sudan to work on resolving the outstanding issues including those related to Abyei.
The commander stressed that the peacekeepers will remain neutral and work to maintain security wihtout bias towards any party.