Sudan unveils new proposal as latest Uganda deal is rejected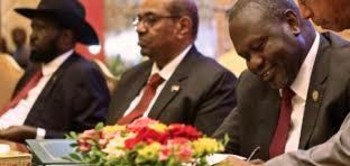 Sudan's government has unveiled a new peace plan in South Sudan, just days after the opposition rejected the Entebbe peace proposal.
The Sudanese mediation held separate consultative meetings with representatives of the South Sudanese parties in Khartoum on Tuesday.
The proposed power sharing agreement provides for creation of four vice presidents, with opposition leader Riek Machar reinstated as first vice president.
The new proposal says the incumbent government will nominate two vice presidents and the other parties and entities will select one vice president who will be a woman.
The proposal calls for increment of government ministries from the current 30 to 45 and increasing parliamentary seats to 550.
The additional 15 ministries, according to the proposal, SPLM-IO will be allocated 12 ministers, SSOA will take 2 ministers and other political parties will take 1 minister.
There will be 10 deputy ministers in the proposed power sharing agreement.
The proposal maintained the controversial 32 states until an inclusive boundaries commission in established to decide on number and boundaries of South Sudan states.
The responsibly sharing ratio at the state and local government levels, according to the proposed deal, will be 55% for the incumbent government, SPLM-IO 25%, SSOA 10%, and other opposition parties 10%.