KHARTOUM/SUDAN -
21 Sep 2021
Sudan thwarts 'failed' coup attempt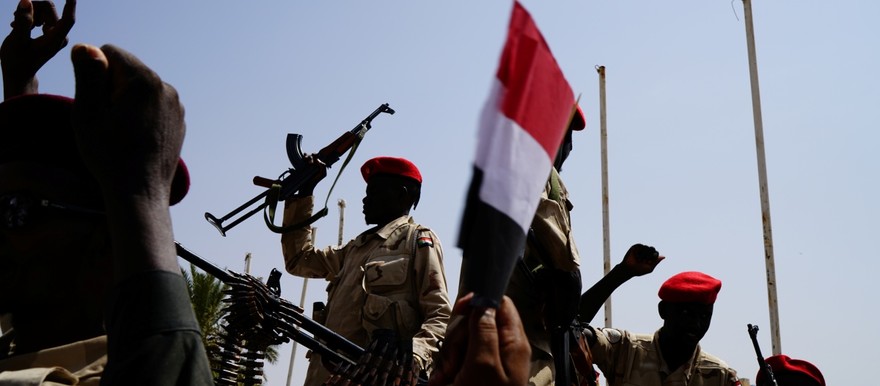 Sudan's paramilitary Rapid Support Forces (RSF) soldiers greet people as they secure a site where Lieutenant General Mohamed Hamdan Dagalo, deputy head of the military council and head of RSF, attends a meeting in Khartoum in June [Photo: Umit Bektas/Reuters]
Sudan says it has halted and contained an attempted coup by a group of soldiers on Tuesday morning and the military remains in control.
A top government source told Agence France-Presse (AFP) the plotters had attempted to take over the state media building but "they failed."
In a Facebook post, the Sovereign Council spokesman Mohammed El Faky Suleiman urged the Sudanese to "rise up and defend your country and the transition".
He said the situation had been contained and that suspects would shortly be interrogated.
"All is under control. The revolution is victorious," Al Faki said.
Sudanese media on Tuesday morning interrupted usual programming and broadcast patriotic songs as hundreds of troops marched the streets of Khartoum. The state-run television also called on the public to counter the attempts.
According to Al Jazeera, a military official said an unspecified number of troops from the armored corps was behind the attempt and that they tried to take over several government institutions but were stopped in their tracks.
The official, who spoke on condition of anonymity because he was not authorized to brief the media, said many troops, including high-ranking officers, have been arrested. He did not provide further details, saying that a military statement would be released shortly.
Anadolu News Agency reports that 40 army officers involved in the coup attempt have been arrested, according to Sudanese military sources.
Sudan's military ousted and detained long-time autocrat Omar Al Bashir in April 2019 after months of street protests against his 29-year rule. Since then, a joint civilian and military government has been ruling faced with humongous economic and security challenges.