Sudan, South Sudan discuss plans to resume oil production in Unity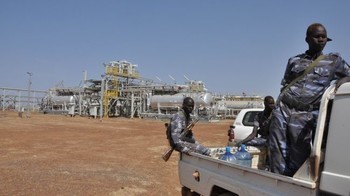 File photo: Oil installations in Unity state. (Radio Tamazuj)
South Sudan's Ambassador to Khartoum, Mayend Dut Wol met with the Sudanese minister Petroleum Minister, Abdurrahman Osman and discussed ways to restart oil production from oil fields that had been closed due to insecurity.
Some oil fields in Unity state have been shut down since 2014 due to the fighting between the government troops and rebels. The lack of oil revenue affected the fragile economy of South Sudan as it depends entirely on crude exports.
In a press statement in Khartoum, Mayen said the meeting also discussed the exchange of expertise in oil management to help boost oil production in South Sudan.
For his part, the Sudanese oil minister said they will continue to implement the 2012 Joint Cooperation Agreement on oil with Juba to serve the interest of the two nations.