Sudan's new prime minister sworn in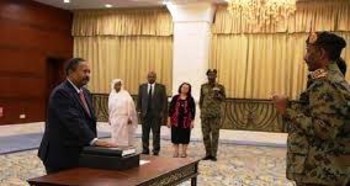 Abdalla Hamdok, a former senior United Nations official, was sworn in as Sudan's prime minister in the transitional government on Wednesday.
Hamdok took the oath before the head of the new sovereign council during a ceremony in Khartoum, moments after flying in from neighbouring Ethiopia.
The new prime minister is expected to form his cabinet next week.
Hamdok, an economist who has served in international organisations, vowed to work towards ending the country's economic crisis and restoring peace.
He said his administration will formulate policies that will address the immediate challenges facing the country.
Dr Hamdok, a graduate of the University of Manchester, was last working as Deputy Executive Secretary of the UN Economic Commission for Africa, and has held positions at the International Labor Organization and the African Development Bank.
He also served as an official in Sudan's Ministry of Finance in the 1980s, before the military coup that put Bashir in power.
In September 2018, Hamdok was named as the finance minister by the ousted President Omar al-Bashir, but he turned down the offer.