Sudan's military says it thwarted 'coup' attempt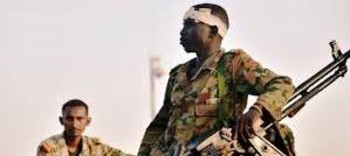 Sudanese soldiers look on as demonstrators attended a protest demanding Omar al-Bashir to step down outside the ministry headquarters in Khartoum on April 8. (Reuters)
Sudan's military rulers said they had foiled an attempted military coup, Sudan TV reported late on Thursday.
The development comes as the ruling military council and the opposition are in talks on the final details of the power-sharing deal.
The security committee, which is part of the military council, said in a statement that the coup attempt had been foiled.
It claimed that 16 army officers, some of them are retired, have been arrested and being questioned in connection with the attempt. The committee added that the leader was among those arrested but did not reveal his name and other details.
The council says security forces are pursuing additional officers who took part in the attempted coup.
The army generals, who ousted longtime leader Omar al-Bashir in April, said the coup plot aimed at obstructing peace in the country.
Thursday's statement gave no more details.
The military and the Forces for Freedom and Change (FFC) agreed last week to rotate control of the sovereign council for a period of three years or slightly more.
Under the deal, five seats would go to the army and five to civilians, with an additional seat given to a civilian agreed upon by both sides.