Sudan's economic crisis caused by massive corruption: report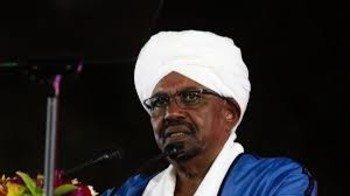 Photo: Sudan's President Omar al-Bashir
An economic crisis in Sudan, including rapid depreciation of the national currency, severe shortages of essential commodities, and near collapse of public health and education sectors, are the result of 30 years of corruption and economic mismanagement, according to a new Enough Project report published on Thursday.
The report entitled "Sudan's Self-Inflicted Economic Meltdown: With a Corrupt Economy in Crisis, the Bashir Regime Scrambles to Consolidate Power," shines a spotlight on the key structural causes of the economic meltdown, detailing distorted economic policies and the direct participation in businesses owned by senior government officials, members of their families, and their business allies.
Dr. Suliman Baldo, report author and Senior Advisor at the Enough Project, said: "Thirty years of economic mismanagement and robust protection of institutional corruption have finally caught up with the regime of President Omar al-Bashir. There is no way out of Sudan's economic crisis other than the deployment of comprehensive and genuine reform measures. The government should urgently halt its off-budget expenditures on the sprawling security apparatus, seek a just and lasting peace for Sudan's multiple conflicts, and immediately launch credible measures to fight corruption."
John Prendergast, Founding Director of the Enough Project and Co-Founder of The Sentry, said: "Despite the Bashir regime's efforts in the past to blame U.S. sanctions for its woes, the economic meltdown since the lifting of sanctions shows where the real fault lies. The hardships wrought upon the Sudanese people are homegrown, driven by kleptocratic leaders and insiders who have hijacked Sudan's rich resources for their personal gain. Until the economy is freed from their destructive influence, peace and prosperity for the Sudanese people will remain a distant dream."
The report details an array of distorted economic policies and practices that led to the economic crisis, including heavy debt burden, large-scale official corruption and overspending on the security sector and government bureaucracy.
The report adds that if Sudan is to sustainably and productively re-engage with the global economy, the Sudanese government must undertake genuine and far-reaching reform measures to attract foreign investments and development assistance, both of which are now inhibited by government practices and the discouraging business environment.
The report calls on the United States to impose network sanctions on networks responsible for corruption and human rights abuse in Sudan under the Global Magnitsky sanctions program in order to create pressure for reforms.
The report also urged the United States and other governments to issue anti-money laundering advisories focused on corruption and the gold trade, as a means of ensuring accountability and gaining leverage to drive needed change in Sudan.