Sudan's Bashir blames unrest on 'foreign conspiracy'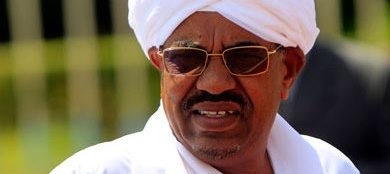 Photo: Omar al-Bashir
Sudanese president Omar al-Bashir has blamed a foreign conspiracy for trying to destabilize his country, as demonstrations against his rule continue in Khartoum and other cities.
"The external conspiracy is true… The external conspiracy continues. There has been an economic siege, and we have lost our main source of oil in the south," Al-Bashir said while addressing the Sudanese Trade Union Federation in Khartoum on Thursday.
"We have been sanctioned and called a rogue state and remain on the list of states that allegedly sponsor terrorism," he added.
"We are subjected to both war in different places and economic sanctions, but Sudan has remained steadfast. But I know citizens are suffering."
Bashir, who has been in power for almost 30 years, pointed to improvements in the infrastructure sector in Sudan since he seized power in1989.
However, he said sanctions have affected Sudan's economic progress. The Sudanese leader vowed to make tireless efforts to overcome the ongoing economic crisis in his country despite challenges.
Bashir offered to boost workers' salaries starting this month and vowed to support pensioners across the country. "The Sudanese people deserve more than this," he said.
For the last two weeks, Sudan has been witnessing anti-government protests.
Human rights group Amnesty International has said it has "reliable reports" that 37 protesters were killed in the protests, which began on 19 December. The government admitted that at least 19 people were killed.
On Monday, President Omar al-Bashir ordered an investigation into the violent protests.