Sudan's army and opposition sign transition deal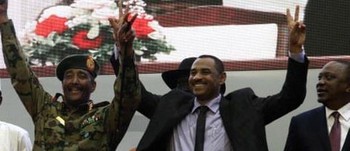 Ahmed Al-Rabie (second right), gives the victory gesture alongside Gen Abdel Fattah al-Burhan (C), the head of Sudan's Military Council after the agreement was signed. Photograph: Ebrahim Hamid/AFP/Getty Images
Sudan's military council and opposition coalition have signed a final power-sharing deal, paving the way for a transitional government.
The landmark agreement signed at a joyous ceremony in the capital, Khartoum, on Saturday, ushers in a new sovereign council, including both civilians and army generals, to prepare for elections and civilian rule.
The agreement was signed by Mohamed Hamdan Dagalo, deputy head of the Transitional Military Council (TMC) and Ahmed al-Rabie, who represented the opposition Forces for Freedom and Change (FCC).
The signing ceremony was attended by heads of states and dignitaries from several countries, including South Sudanese President Salva Kiir and Ethiopia's Prime Minister Abiy Ahmed.
The military council and the opposition coalition have been negotiating the power-sharing deal for months.
Under the deal, a sovereign council, consisting of six civilians and five army generals, will run the country for over three years until elections.
The two sides have agreed to rotate the chairmanship of the council. The sovereign council will be led for the first 21 months by Lt. Gen. Abdel Fattah al-Burhan.
The opposition alliance on Thursday nominated Abdulla Hamdok, a former senior UN official, as prime minister in the transitional government.
After taking the oath of office before the sovereign council next week, the prime minister will announce the cabinet.
Sudan has remained in political crisis since April 11, when the army ousted President Omar al-Bashir after months of protests against his 30-year rule.