Sudan: Rights group lauds Darfur crimes probe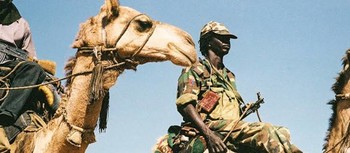 Militiamen in Darfur (file photo)
Non-profit rights group the Enough Project said on Monday it welcomes an investigation by Sudanese government into crimes committed in Darfur by members of the former regime of former president Omar al-Bashir.
The state prosecutor Tagelsir al-Heber said on Monday that they had launched an investigation into the crimes committed in the Darfur region from 2003.
According the United Nations, as many as 300,000 people died from fighting in the western region, where the government and the Janjaweed militia have battled rebel groups.
Dr Suleiman Baldo, Senior Advisor at the Enough Project, said Sudan's government took a significant step by opening investigations into the role of deposed President Omar al-Bashir and some fifty senior officials of his regime in the war crimes, crimes against humanity and genocide that took place in Darfur starting in 2003.
The rights group pointed out that the new civilian-led government is showing through these investigations its determination to put an end to rampant impunity for serious crimes that prevailed under Bashir.
"It is also responding to the demands of justice by the victims of conflicts in Sudan, and by the population whose peaceful protests led to the downfall of Bashir," Baldo said.
The Enough Project stressed that the world will be watching closely, with the expectation that these investigations will be conducted independently, fairly, and with the clear understanding that no one will be held above the law who was implicated in orchestrating crimes in Darfur and elsewhere in Sudan.
Bashir, 75, is also wanted by the International Criminal Court in The Hague for genocide, war crimes and crimes against humanity for his alleged role in the conflict in Darfur. He was ousted in April after nationwide protests against his rule.
Bashir convicted in Khartoum
On 14 December, Bashir was sentenced to two years in a rehabilitation facility after being found guilty of corruption and illegal possession of foreign currency.
The presiding judge said Bashir was being sent to a state-run social care facility for elderly people, rather than a prison, on account of his age.
In May, the former leader was charged with incitement and involvement in the killing of protesters, and two weeks ago was summoned for questioning over his role in the 1989 military coup that brought him to power.