Sudan rebels mull other venues for peace talks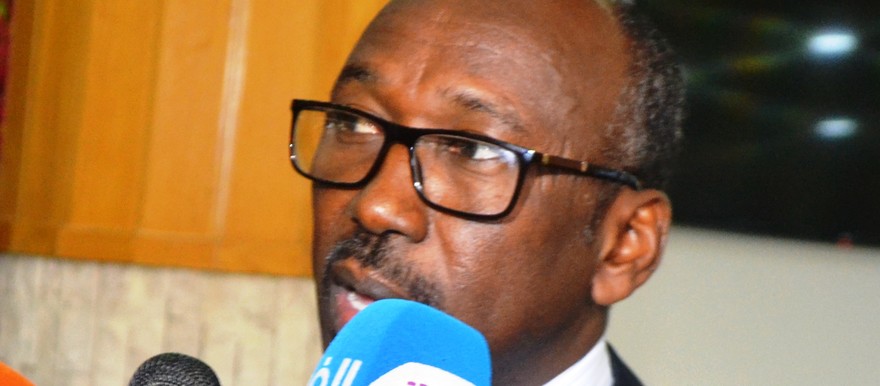 SRF negotiator Ahmed Tugud Lisan speaks to reporters in Juba on 10 September, 2019 (Radio Tamazuj)
Sudanese rebels said on Tuesday that they are still considering other countries as potential venues for the talks with the government.
With Juba still being one of the options for Sudan peace negotiations, other countries are also being considered by the rebel umbrella Sudanese Revolutionary Front (SRF) as possible venues for the talks. South Sudan government had offered to host the talks between Sudanese armed movements and the government.
The talks aimed at ending conflicts in Darfur, Blue Nile and South Kordofan areas were declared open by South Sudan President, Salva Kiir Mayardit in Juba on Monday.
Speaking to reporters in Juba on Tuesday, SRF negotiator Ahmed Tugud Lisan said a decision on the location of the peace talks will be announced after they carry out consultations with regional and international partners.
He said that the opposition umbrella Sudanese Revolutionary Front met with the government team in Juba where they discussed procedural matters before the talks start officially.
The rebel official revealed that they asked the Sudanese government to create a conducive environment before negotiations start.
"We also discussed issues related to the parties of the peace talks and the role of the mediator. There is a need for more time to carry out consultations on the role of the mediator and the venue for the talks," he said.
"We agreed in principle to start the talks after the second week of October in order to give ample time for consultations with regional and international partners," he added.
"There are partners who previously participated in the peace process, partners like the Troika, Gulf countries and neighboring countries. We want all the partners to participate."
Tugud pointed out that they will hold consultative meetings in the next two weeks in Egypt where the parties will agree on the venue for the talks.
"We will also agree on the role of the mediator that will facilitate the talks in a successful way," he said.
Tugud appeared to leave open the possibility that the negotiations could shift to another location.
Fighting between the Sudanese army and rebels in the Kordofan and Blue Nile regions broke out in 2011, and conflict in Darfur began in 2003.
The armed opposition groups who are part of the peace talks include the Sudanese Revolutionary Front and the SPLM-N faction led by Abdel-Aziz al-Hilu.