Sudan parliament passes constitutional amendments on freedoms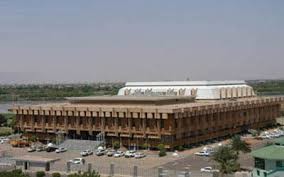 .Photo: The Sudanese parliament building in Khartoum
Sudan's National Legislative Assembly on Tuesday passed draft constitutional amendments on freedoms and endorsed the National Security Service to be an organized force protecting the country's nation security.
The bill, which was passed in absence of opposition parties, was stabled on Monday but the final approval was delayed due to lack of quorum.
Badria Suleiman Abbas, head of the constitutional amendments committee, said in a press statement that the national dialogue resolution was the basis for the new amendments.
She further said President Omar al Bashir is keen to implement the outcome of the national dialogue. Suleiman added that the bill of rights is the most important of all the bills in the constitution.
For their part, Omer Al-Digair, leader of Sudan's opposition Sudanese Congress Party, told Radio Tamazuj that the amendments only serve to restrict political parties and give excessive powers to the national security service.
"They have given the national security full powers to restrict political freedoms and they gave it to the parliamentarians in the name of law. But the problem is that the majority in the parliament are from the ruling party, so what do you expect from them? That's why we are not surprised. We knew there is nothing new that will come out of the national dialogue," he said.
According to Al Digair, the ruling party being a majority in the parliament, it will continue passing laws that favor its interest.