Sudan military and opposition reach power-sharing deal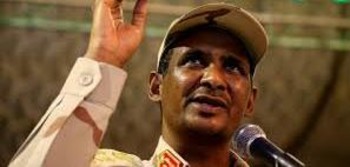 Photo: Mohamed Hamdan Dagalo
Sudan's military generals and the opposition alliance have reached an agreement to share power during a transitional period until elections, mediators say.
The deal could bring an end to the standoff between the Forces for Freedom and Change (FFC) and military junta since the ouster of President Omar al-Bashir in April.
Mohamed Hassan Lebatt, African Union (AU) mediator, said at a press conference in Khartoum on Friday that both sides which resumed talks this week agreed to rotate control of the sovereign council for a period of three years or slightly more.
He further said a military general will lead the joint council for the first 21 months, then a civilian leader will lead for 18 months.
Under the deal, five seats would go to the army and five to civilians, with an additional seat given to a civilian agreed upon by both sides.
They have also agreed to form an independent technocratic government and to investigate the violence of recent weeks, the African Union (AU) said.
The two sides, according to the AU mediator, have also agreed to postpone the establishment of a national legislative assembly.
The deputy head of the Transitional Military Council (TMC), Mohamed Hamdan Dagalo, said: "This agreement will be comprehensive and will not exclude anyone."
"We thank the African and Ethiopian mediators for their efforts and patience," he said.
FFC negotiator and Sudanese opposition figure Omar al-Digair hailed the struggle of Sudanese people for change. He pointed out that the transitional government will prioritize peace in the country.
News of the deal reached by the two sides sparked street celebrations.