"Sudan has not denied me a visa, I never applied for it" – Malong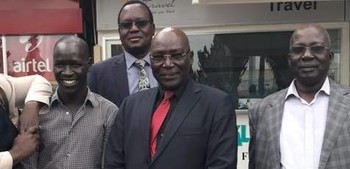 General Paul Malong Awan, former South Sudan's army chief has come out to rubbish claims that he has been denied a visa to travel to the Sudanese capital, Khartoum.
Malong told Radio Tamazuj today that how can he be denied of something that he never applied for in the first place. "What was reported is untrue. If I have something in Sudan I can apply for a visa, but I don't have a passport because my passport was changed because of my previous position," Malong said.
"I tried to process a new passport in Juba, but the machine was not working across the country, so I came to Nairobi using a travel document that is accepted only in Kenya and Uganda," he added.
The former army chief also denied reports that he has been holding meetings with political dissidents since his arrival in Nairobi. "I arrived in Nairobi on Sunday and on Monday officials from the South Sudanese embassy came to visit me at home. On Tuesday, I had lunch with staff of the embassy, so where can I get time to apply for a visa?" he asked.
Malong was among three South Sudanese officials sanctioned by the United States in September, and by Canada this month, for allegedly obstructing peace efforts.
Gen. Paul Malong was under house arrest in Juba from May till last week when President Kiir lifted the restriction. He travelled to Kenya for medical treatment.