Sudan government signs peace deal with main rebel coalition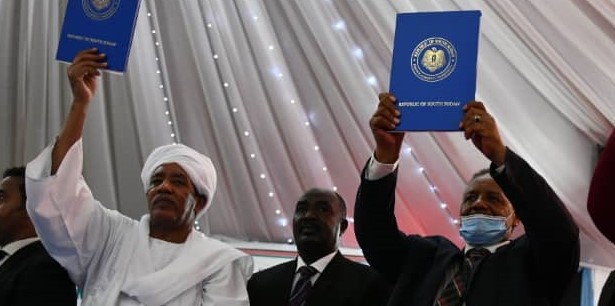 Sudan's transitional government and the rebel alliance Sudanese Revolutionary Front (SRF) signed a peace deal in Juba today.
The alliance of armed opposition groups from Darfur and the southern states of South Kordofan and Blue Nile, initialled the peace accord at a ceremony in Juba.
South Sudan has helped mediate the protracted negotiations in the capital Juba since late 2019.
The agreement initialled by representatives of both sides includes security arrangements, transitional justice, land ownership, power-sharing, and the return of refugees and displaced people to their areas.
The opposition groups that signed the agreement with the transitional government include the Justice and Equality Movement (JEM) and Minni Minawi's Sudan Liberation Army (SLA), both of the western region of Darfur, and a wing of the Sudan People's Liberation Movement-North (SPLM-N) led by Malik Agar, present in South Kordofan and Blue Nile.
The agreement also provides for the integration of rebel fighters into the army.
The initialling of the peace agreement is a key step in the transitional government's plan to bring an end to conflicts in Sudan.
Fighting between the Sudanese army and rebels in the Kordofan and Blue Nile regions broke out in 2011, and conflict in Darfur began in 2003.
However, an SLM faction led by Abdel -Wahid Mohamed Nur and a faction of the SPLM-N headed by Abdelaziz Adam al-Hilu refused to take part in the agreement.
Both Chairman of Sudan's Transitional Sovereign Council General Abdel Fattah al-Burhan and Prime Minister Abdalla Hamdok were in attendance in Juba on Monday, while South Sudan President Salva Kiir oversaw the signing ceremony.
The ceremony was also attended by representatives of IGAD countries, Chad, Egypt, Saudi Arabia and many friendly countries to Sudan.