Sudan government destroys Khartoum church and orders Christians out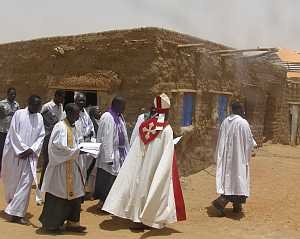 (By Radio Tamazuj Editor)
The Episcopal Church in Haj Yousif, Khartoum North has been destroyed by the government of Sudan. The Chief of Police of the area simultaneously ordered all South Sudanese to leave this suburb of the capital Khartoum. The demolition of St. John's started Monday evening after sunset, about 9:00. According to Bishop Ezekiel Kondo in an interview with the independent Radio Tamazuj, the entire building has been destroyed. It is the third church attack in Sudan since South Sudan gained independence last year.
Bishop Ezekiel Kondo of Khartoum told Radio Tamazuj that the authorities claim the church is no longer in use. "They argue that all Christian Sudanese have moved to South Sudan. But the authorities are fabricating lies. There are still many South Sudanese living in Sudan. Moreover, the church acts as a place of worship to all, not just the South Sudanese", according to Bishop Ezekiel Kondo. The Bishop added that the Chief of Police of Haj Yousif ordered all South Sudanese to leave the area of Khartoum North within the coming 72 hours.
In April, a letter had been delivered to St John's Anglican church in Haj Yousif in Khartoum claiming that the church did not own the land and therefore locals planned to demolish the church within 72 hours. A day later, a mob broke into the Presbyterian Bible School in Khartoum (El Gereif), destroyed Bibles and set the building alight. In the past year several churches have been destroyed and a bible school was bombed by warplanes in the Nuba mountains.