Sudan: Food reaches disaster zone in Heiban hills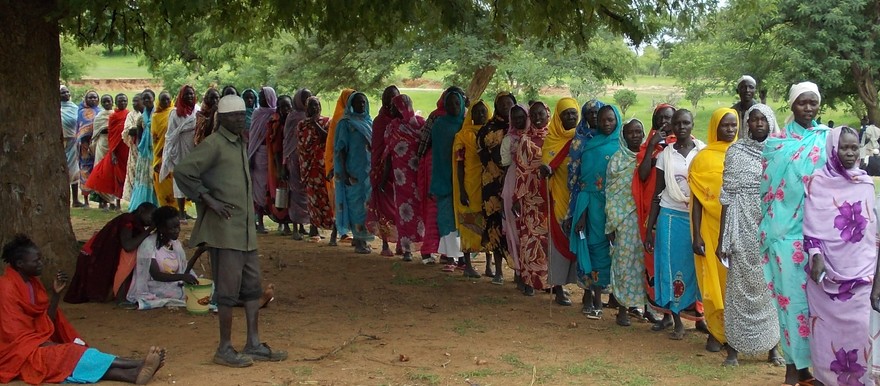 Thousands of people in Heiban area received food hand-outs as South Kordofan, divided by war, moves deeper into the pre-harvest 'hunger season'. Commercial and humanitarian food deliveries to the area are difficult and expensive, traders told Radio Tamazuj, suggesting uncertainty as to whether the region's mass malnutrition will improve or worsen even further.
Nuba officials carried out a food distribution recently in Dabi in Heiban Locality targeting 1250 families, according to humanitarian coordinator Omar Abdel-Moneim Karim. He said that the first food hand-outs were done earlier this month. Abdel-Moneim estimated that 90% of people in Dabi Administrative Unit had run out of supplies and were forced to rely on wild foods.
Traders in Kauda market explained that they can bring food supplies from Bentiu and other markets in South Sudan but cannot access the markets in government-held parts of the state. They said that imported goods themselves are not expensive but that prices are driven up by the high costs of road transport, barge fees, and taxes.
Sheikh Ahmed Sabo, a businessman in Kauda, said that prices rose somewhat recently because of the poor condition of the roads. A said that he sells a sack of sugar for 800 pounds, a carton of soap for 230 or 240 pounds, and a jerrycan of cooking oil for 450 pounds.
The owner of a small restaurant in Kauda, Amira Mohamed Kolol, said that in the past her clientele included many NGO workers who were able to pay in cash, but that now the NGOs have all left and there are few people who can afford to eat there. She said that it is very expensive to buy meat, salt, onions, oil and other supplies for her restaurant.
Hunger
Asked about the food situation, Mary Omar, a woman in Aldo area, explained: "There are people who have nothing – nothing. Then there were people who had a little bit, a little, but this month it finished." She said that now the people are just eating 'greens', meaning wild leaves and grasses.
"The humanitarian disaster that was expected has happened now in virtually all of the countryside. The inhabitants have become beggars desperate to escape the threat of famine by any means," a correspondent writes Radio Tamazuj from Kauda.
"The people's bodies have become flaccid, especially the women, and their eyes are vacant. No one is better off than the other, and one cannot describe of the intensity of their hunger. It is the first time I have seen people eat grass as greedily as animals."
Medicine
Dabi Administrative Unit has two clinics but the treatment options there are extremely limited. "It's been an entire year since any medicine came," said Omar Abdel-Moneim Karim, the local coordinator. He pointed out that the complete lack of proteins and the eating of wild foods could cause digestive problems.
Likewise, in Aldo, people who get sick have to be carried on wood-and-rope beds to clinics in Libere or Gidel. "There's a clinic but it's just a small health center. We don't have full treatment," said Mary Omar.
"We are now in the middle of the rains, a season of many diseases. If we don't get medicines then people afflicted by these diseases will die," said Abdel-Moneim.
Background
South Kordofan is a war zone between the Sudan Armed Forces and the Sudan People's Liberation Army (North). The fighting between the two sides broke out in June 2011. The civilian population is suffering from the economic impact of the conflict, which has caused tens of thousands to flee to South Sudan while others seek refuge in the hills and peaks of the Nuba Mountains or flee to government towns.
The Nuba, who are traditionally cultivators, have been unable to farm their 'far fields' in the plains at the base of their mountain hide-outs. According to the aid official Omar Abdel-Moneim, the people didn't farm last season "because of the war, the government bombing of agricultural areas, and the poor rains." The Nuba herds have also been diminished by cattle raiding reducing access to a key source of protein and income for buying food.
Natives remaining in South Kordofan's rebel-held areas number about 50,000 people. Refugees from other parts of the state – what the UN terms 'internally displaced persons' or 'IDPs' – number 150,000 to 200,000. USAID's famine watchdog on 5 July classified the food situation in rebel-held parts of South Kordofan as a 'phase 4' emergency, one step below the agency's most dire alert level, catastrophe/famine.
"Between now and August, food security is expected to deteriorate as food prices peak, food stocks are exhausted or drawn to a minimum among both IDPs and the host population, and limitations on trade, movement, and humanitarian assistance continue," reported the agency.
Photo by Radio Tamazuj: Women line up for food distribution in Aldo, South Kordofan, late July 2012.