Sudan: Darfur crimes probe against Bashir regime opened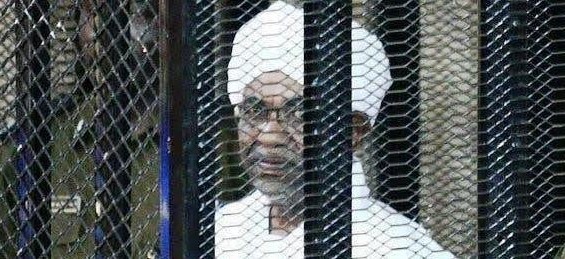 Omar al-Bashir, the former president of Sudan, in court in August.Credit...Ebrahim Hamid/Agence France-Presse — Getty Images
Sudan's government said it had opened an investigation into crimes committed in the Darfur region by members of the regime of former president Omar al-Bashir.
According the United Nations, as many as 300,000 people died from fighting in Darfur, where the government and the Janjaweed militia have battled rebel groups.
The deadly conflict in the western Darfur region began in 2003.
"We have launched an investigation into the crimes committed in Darfur from 2003. The crimes committed there were horrific and shook the world's conscience," prosecutor general Tagelsir al-Heber told journalists at Khartoum Airport on Sunday.
He disclosed that these were "cases against former regime officials" linked to former President Omar Bashir, who is wanted by the International Criminal Court on charges of war crimes, crimes against humanity, and genocide in Darfur.
"The cases are against Bashir, former defense minister, Ahmed Harun, Ali Kosheib and other former regime officials, so the number could reach 51 former regime officials," he explained.
The prosecutor general said he will travel to Darfur in January to carry out further investigations into cases related to Darfur atrocities." The justice minister and I will travel to Darfur because we want to see the situation on the ground," he said.
The move comes a year after nationwide protests against al-Bashir's 30-year rule. Bashir has been in jail since April, when the military ousted him after months of street protests.
Bashir convicted
On 14 December, Bashir was sentenced to two years in a rehabilitation facility after being found guilty of corruption and illegal possession of foreign currency.
The presiding judge said Bashir, 75, was being sent to a state-run social care facility for elderly people, rather than a prison, on account of his age.
In May, the former leader was charged with incitement and involvement in the killing of protesters, and two weeks ago was summoned for questioning over his role in the 1989 military coup that brought him to power.
The former Sudanese president was an army Brigadier-General when he joined forces with Islamists to seize power in the 1989 military coup.
Cases against ex-spy chief
Separately, the prosecutor general said that proceedings had been launched against Salah Abdalla Gosh, former intelligence and national security chief who served under Bashir.

"There are four cases against Salah Gosh and we started a procedure to bring him back to Sudan," he said.
Gosh resigned from his position in April two days after the ouster of Omar Bashir by the military. He is now outside of Sudan.