Sudan complains again to UNSC about South Sudan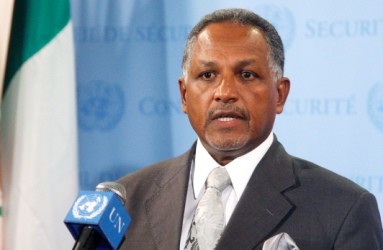 Sudan has complained to the UN Security Council accusing South Sudan of committing gross violations during the past eight days and carrying out attacks at the border, breaching UN resolution 2046.
Speaking from New York Sudan's permanent representative of the UN Daffa Allah Al Haj Ali said the South Sudanese army equipped with two tanks and and number of heavy weapons entered an area 23 km north of the limits of the January 1 1956 border within the territory of Sudan.
He said South Sudan also continues to support rebels in Darfur and South Kordofan against the state.
Meanwhile, Khartoum has denied claims that the air force carried out air strikes in the Warguet area of Northern Bahr El Ghazal in South Sudan.
He said the accusations are 'false and evidence of the South trying to cover up violations by deception.'