Sudan closes its border crossing point with South Sudan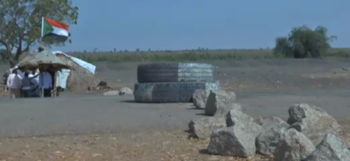 File photo: Sudan border crossing point at Joda
Sudanese government has closed its border crossing point at the Joda area with South Sudan without clear reasons.
The move comes days after Nothern Upper Nile officials blocked an AU team from marking a crossing point of the Safe Demilitarized Buffer Zone between the two countries in the southern part of the Wunthou area.
Stranded South Sudanese at Joda crossing point told Radio Tamazuj on Saturday that the Sudanese government closed its border point without clear reasons on Wednesday. They pointed out that South Sudanese nationals are not allowed to cross to the Sudanese territory.
The complaining citizens pointed out that most of those who want to cross to Sudan are women, children and patients. They called on the Sudanese government to open its border crossing point.
Northern Upper Nile officials could not immediately be reached for comment.
In a statement released on Wednesday, the United Nations Interim Security Force for Abyei (UNISFA) which is tasked with the support of the Cooperation Agreement implementation said the marking of crossing points between the two countries was completed at the Heglig-Bentiu and Al Sumayyah corridors.
It further said the Team marked the entry and exit points of the northern and southern limits of the SDBZ.
"However, only the North outer limit point was marked at the third crossing point, Kosti Renk, as the Team was denied access to the Southern part by the South Sudanese governor of the area. The Team needed clarification for the fourth crossing point at the El Rodom el Buram-Tumasaha-Raja".