Sudan: Bashir vows "decisive" action on violent protesters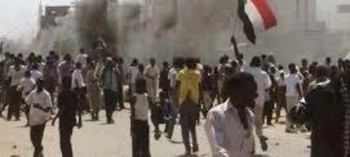 Sudanese president Omar al-Bashir vowed to deal decisively with violent protesters, as demonstrations against his rule continue in Khartoum and other cities.
"We will deal decisively with anyone who destroys properties," al-Bashir told a cheering crowd who gathered in Khartoum in support of his leadership on Wednesday.
The 74-year-old leader vowed to protect people's properties. He pointed out that his country will not become like other countries that have been destroyed.
Bashir, who came to power in a military coup backed by Islamists in 1989, said his country is being targeted by an economic war since 21 years of imposed sanctions.
Deadly protests broke out on December 19 after a government decision to raise the price of bread.
The government says at least 19 people, including two security personnel have been killed during the protests but Amnesty International has put the death toll at 37.
Sudan's Minister of Interior said more than 800 protesters have been arrested.
In a joint statement Tuesday, the United States, Norway, Britain and Canada expressed their concern over the current situation in Sudan.